Why Heritage?
When it comes to adding value and growing your business with high-quality wholesale sheds, garages, and pool sheds, Heritage Sheds is a true partner who can help you maximize success. Whether you're looking to help customers protect their cars or motorcycles, give more space for storage or a work studio or provide a convenient storage solution for pool toys and maintenance supplies, we'll help design the perfect structure to help solve your customers' storage and space issues.
At Heritage Sheds, we bring to life the structure you've envisioned with the quality that comes from years of experience by multi-generational expert craftsmen in Lancaster County. Keep reading to learn more about the benefits of partnering with us for your wholesale structure needs.
A True Partner For Dealers
A true partner is someone that is invested in helping you grow your business. After all, we're only successful when we're helping you be successful. We are committed to helping local dealers get their customers excited about their structures and ensuring an easy ordering process.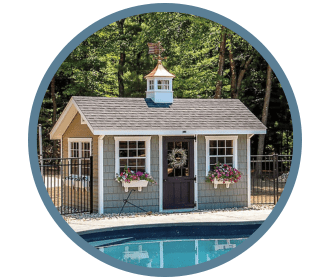 Custom Design or Stock Options
We have a wide range of styles in stock and ready to send to you, making it easy to plan your inventory and set up your showroom. We can also customize any of our models and build custom designs from the ground up, thanks to our in-house designers. What's more, we offer both high-end options and economy options to ensure you receive a high-quality solution to fit your needs and your budget.
In-House Designers
When it comes to maximizing your success, our in-house designers can work closely with you to help you customize and design high-quality, long-lasting sheds, garages, and pool sheds specially for your customers. If you've had customers request customizability in the past or if you've always wanted to sell custom structures but haven't had the resources to do so, our qualified team of designers, builders and experts can help.
Marketing and Sales Support
With colorful brochures, great photography, in-house account managers, and in-house administrators, we'll do whatever it takes to help you be successful selling Heritage structures. Your success is our success, which is why each and every structure is built with Lancaster County craftsmanship from top to bottom. 
Great Value
When you think about the value of what you can sell as well as the strong margins that you need to be successful, it's easy to see the benefits of working with Heritage Sheds. Our sheds are a great value and easy to resell, meaning you can impress your customers and help your business be successful. We're a partner who will work closely with you every step of the way to help you take your business to the next level.
Contact Us Today to Learn More
From sheds to garages to pool sheds and beyond, Heritage Sheds is dedicated to helping your business maximize success. To learn more about our high-quality wholesale sheds, garages, and pool sheds, contact us today. We're happy to answer your questions and help you choose the right structures for your business.